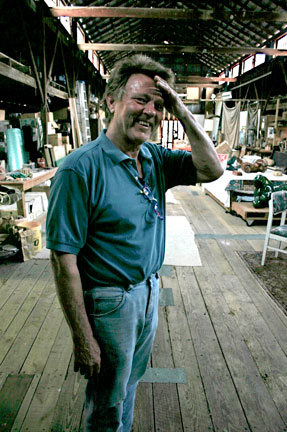 William Schaaf was born in Richmond, Virginia, in l944.

He has a B.F.A. from the University of Florida, Gainesville, and a M.F.A. from the University of Illinois, Urbana/Champaign, both in Painting and Printmaking.

In his early career he had occasional jobs refurbishing houses, landscaping and driving tractor-trailer trucks. Since the early 80s, he has sustained himself from art sales, teaching and workshops.

For many years he has used Art as a Healing Agent with so-called ADD, autistic, abused, and exceptional young persons, separately and with artist/educator, Annie Pais. They were early consultants to the Arts In Medicine Program, Shands Hospital, Gainesville, Fl.

Academically, he has served many roles; professor, lecturer, workshop facilitator, visiting artist, in over 25 different institutions, including Southern Illinois University, Penn State University, York University, Toronto, Wayne State University, Detroit, Princeton University, N.J., Universities of Illinois, Florida, Wisconsin, S. Florida, Miami and others.

He has provided for dozens of drawing/writing creative process workshops in such places as: The Omega Institute for Holistic Studies, N.Y., The Penland School of Crafts, N.C., Shands Medical Center, Hospice of N. Florida, both of Gainesville, Fl., University Medical Center, Jacksonville, Fl., Valencia Community College, Orlando, The Ringling School of Art & Design, Sarasota, Fl., and some of the afore-mentioned universities.

He has been awarded residencies at Yaddo, Saratoga Springs, N.Y., the MacDowell Colony (twice) at Peterborough, N.H., the Ossabaw Island Project, (twice) Savannah, Ga., and the Virginia Center for the Arts. He has twice been awarded Individual Artist's Grants from the State of Florida. He was an Alternate in Painting for the American Academy in Rome and he worked with Christo's Surrounded Island Project in Miami, Florida.

He has exhibited in some 85 group shows, plus some 25 one-person exhibitiions in many major U.S. cities, in such galleries as Robert Friedus and Allan Stone, N.Y., Chiaroscuro Gallery, Santa Fe, N.M., The Kentucky Derby Museum, Louisville, The Ringling School, Sarasota, Fl., The Tampa Museum of Art, Fl., Jacksonville Museum of Art, Jacksonville Museum of Modern Art, The Cummer Museum of Art and Gardens, Jacksonville, Fl., The Society of the Four Arts, Palm Beach, Fl., Samuel P. Harn Museum, Gainesville, Fl., Gulf Coast Museum of Art, Largo, Fl., the Orlando Museum of Art, Fl., and the J. Johnson Gallery, Jacksonville, Fl.

His work is in many private, corporate, and museum collections including: The Samuel P. Harn Museum of Art, Gainesville, Fl., Jacksonville Museum of Contemporary Art, Fl., Deland Museum of Art, Fl., Vero Beach Museum of Art, Fl., The Tampa Museum of Art, Fl., The Kentucky Derby Museum of Art, Lexington, Convergys Corporation, Lake Mary, Fl., Alabama Power Corporation, Birmingham, City of Orlando, Fl., General Telephone and Electric, Tampa, Bell South Corporation, Jacksonville, Fl., Tupperware Corporation, Kissimmee, Fl., Berol Corporation, Ct., State of Florida, Tallahassee, Robert Rauschenberg Estate, Sanibel, Fl., Jennifer Johnson Collection, Fl., Ed Harris Collection, Malibu, Ca., David Cofrin Collection, Gainesville, and others.

His work has been featured in Spur Magazine, The Equine Image, Sky Magazine (Delta Airlines), Sculpture Magazine, Horizon Magazine, Art In America, Notes to A Young Painter, Hiram Williams/book, The Drawing Handbook: An Approach, Stuart Purser/book. He has been featured in videos for television (WUFT-TV, Gainesville), and was a guest speaker for the then, Voices in the Wind, National Public Radio, Washington, D.C.